Do you know that your pet comes with a whole lot of information about them that can help you design a room for them or find activities to keep them happy? Of course, you can change whatever you want, but in case you were wondering where to start or think you might have gone in the wrong direction....check the pet's biography. This is what was issued with the adoption paper when you first adopted your pet and you can go back to it at any time for review. Here are some examples: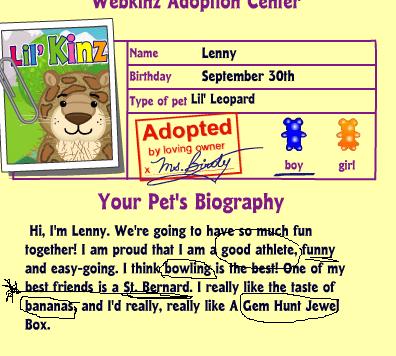 Lenny is easy to decorate a room for because as an athlete you have many themes to choose from or mix and match. Don't forget to put in all the sports equipment also. You might even get a yard for all the balls and gloves. If you have enough cash and get lucky enough to catch it at the right time, you can buy the bowling alley from the curio shop.....otherwise just take him to the bowling alley in the club house. Persephone sells the bowling shirt in her shop if you get the clothing bags (I don't remember right now what they are called). Feeding your pet his favorite food besides his PSF will also keep him happy and less hungry longer........watch for sales in the Wshop...its cheaper than buying the PSF and if you buy a lot you can feed it to any pet. Then, I like to give my pet whatever 'toy' they really want to decorate their room....it really makes their happiness level go up if they are the one you are playing with when you buy it. Finally, it isn't always possible, but once in awhile if you can put 2 pets together that are supposed to be best friends it is
really
cool.
****************************************************************Another example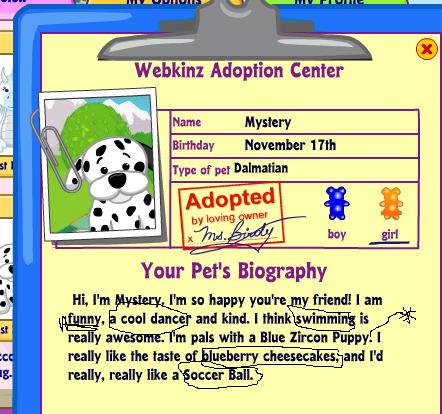 For Mystery (so named because she was a trading card pet .... unknown type until the adoption was complete) I made sure to have a boom box in her room for dancing and let her wear funny glasses and outfits. She also has a yard and a pool where she invites her friends. They also play soccer in the field next to the pool.
************************************************************************************
You can think of a lot of things to do with your pets.....if it says they are 'amazing singer': get a karaoke machine, if they 'collect cards': put your trading card book in their room (or maybe think about collecting trading cards), taking pictures: put a zum book in the room (if you have zums), etc Have fun